Emergency Medical Information Booklet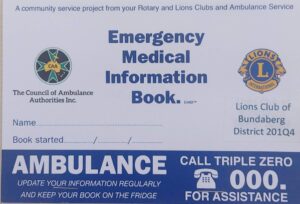 Bundaberg Lions Club has decided to launch the life saving EMIB into the Bundaberg community. The Emergency Medical Information Book. This has been a long standing project of Lions and Rotary Clubs Australia wide and has saved lives.  The EMIB also has a pocket version for your wallet. The EMIB needs to be filled in with your medical information and needs to be placed for easy access. It has magnets ready for the fridge door. Our first two roll outs of EMIB have been to Bolton Clarke retirement village with the booklet and Bundaberg Special School with the pocket edition. We aim to expand this project to reach as many in the community as possible.
See Bundaberg Special School Facebook below.