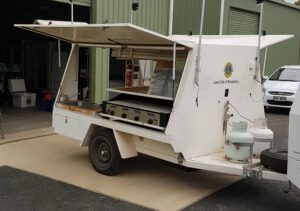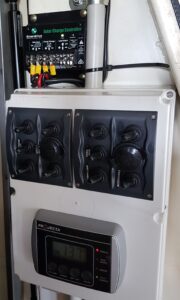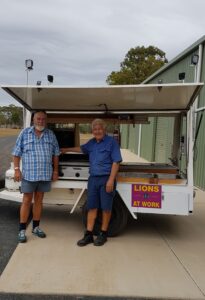 In 2009 we decided that a BBQ Kitchen Emergency Trailer would be a worthwhile piece of equipment to have. This was very apparent after unloading three or four vehicles full of heavy equipment like BBQ's. Our thoughts were it could be used for emergencies to feed people and also be very useful for Community Events.
Our BBQ Kitchen Emergency Trailer was constructed in 2010 from a Queensland Government Gaming Community Grant. We did not expect to have it in emergency use so quickly. The two Bundaberg floods caused us to put the trailer into action. There were long delays with people trying to sort out flood damage with Centre Link and Insurances and this caused initial problems with people being stressed, hot and bothered. Being able to offer a simple sausage sizzle and cold drink was very much appreciated by all and helped relax people while they were waiting. We were much more experienced by the second flood.
The trailer has two BBQ's and sinks fitted on each sides. In an emergency we can output a lot of cooked food if needed. We have been complimenting our trailer setup with external equipment such as marquees, generators, portable fridges, tables, chairs, food warmers etc.
We completed a safety upgrade to the Trailer in 2016 which comprised of adding two compartments and relocating the battery, adding a hand brake, reinforcing the rear door and using larger gas struts and adding a ratchet dolly wheel so the trail and be moved easily.
In 2017 we received the Ergon Community Grant to upgrade all of the electrics. This comprised of two systems 12 volt and 240 volt.
The 12 volt system has a solar panel and battery charger solar regulator. Also a lighting system was installed using the 12 volts. LED lights were fitted internal and under the doors. High powered LED lights were installed on mountings at each corner. We can illuminate a large area. 12 volt control panel allows separate switching of all 12 volt equipment. i.e. individual lights, water pump, radio.
The 240 volt system has an input for our generators or external power. A switchboard was installed for safety and control. Internal power points were installed for hot water system and portable fridge. External power points were installed on each corner for general use.