These are some of our older major projects. Most of the community would not realize the difference Lions has made to their lives. It has all been taken for granted by most but a lot of work and time had been put into these projects to improve the lives of the local community. It does not happen by itself and if you waited for Governments, you probably would be still waiting.
Follow the menu to the larger historical projects.
Here are some of the smaller historical projects.
Street Numbering Project.
In co-operation with the Bundaberg Council the Bundaberg Lions Club installed street house number on the gutter. The idea was to make all addresses easily found by emergency vehicles. A few sub-divisions were completed around the city area. Some still remain but the technology is such now it is not really required.
Food Voucher Project.
We supplied prepaid vouchers to some groups that worked supporting the homeless. This groups than as needed passed the voucher to the needy.
Semi-automatic External Defibrillator Project.
We purchased and supplied defibrillators to Burnett Bowls Club and the Meal on Wheels Complex. Both of these areas being identified as having large groups of elderly people usually in attendance. Feedback from the Bowls Club says the unit has been used a number of times.
Truck Drive for Kids.
This was a combined project of all the Bundaberg Lions Clubs. This project went for a number of years. It had a lot community involvement. The truckles put in a lot of effort along with all the other volunteers.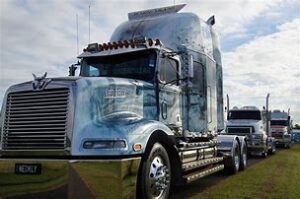 Give Me 5 for Kids.
We helped fundraise by running sausage sizzles at the Hospital and Shopping Centre's. The funds went to support children's hospital wards in Bundaberg and Hervey Bay.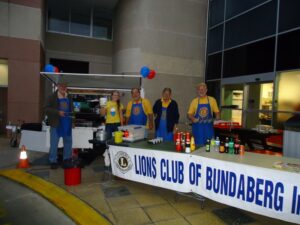 Light the Night – Leukemia Foundation
Bundaberg Lions supported this remembrance and fundraising event for over a decade by running the sausage sizzle BBQ. Sadly the event numbers had been decreasing so new events are being done. Light the Night did do a virtual event in 2022. Follow the link to find out more  Fundraise | Light the Night | Leukaemia Foundation