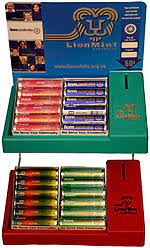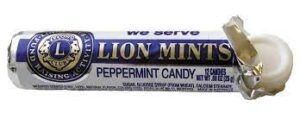 We have Lion mints at many places in Bundaberg thanks to the support of local business operators.
You will notice them on counters with an honour system for payment.
We have members who do regular Lion mint runs. Mints are sold on the counters of supporting businesses.
Peppermint – Spearmint – Musk – Fizz
The Lion Mint program was established at the 1976 Melbourne Multiple District Convention. The idea was brought forward by the then International Representative, the late Lion Jim McLardie. The funds raised from the sale of Lion Mints over the years have been a great financial boost to clubs for their community work. Lion Mints were first exported from Australia to the USA in 1986.
Dollar Sweets is the proud manufacturer of Lion Mints. This confectionery range is sold throughout the world to support Lions Clubs in their charitable work.
Our supporters are listed here
Bundaberg Central – Bundaberg IT Services, Boston St – Australian National Properties, Barolin St – Bundaberg Tax & Accounting, Walla St – Bundaberg Telephone Coy, Woongarra St – HQ on Targo-hairdressers – M, Targo St – RSL, Quay St – State MP Member for Bundaberg – Barolin St – Arcon Engineering, Gavin St – Shorten Accounting, Bourbong St – PCS (Printer Cartridge Services), Electra St -Barolin Physio, Waker S – Centacare Office, Woongarra St West – Sunstate Travel, Bourbong St. – Bundaberg Regional Council, Bourbong St – Finemore, Walters & Story, Woongarra St – Burnett Bowls Club, George St – Norco Rural, Gin Gin Rd – Fairways Retirement Village
Bundaberg West – Dept of Primary Industries, Enterprise St – Dept of Natural Resources, Enterprise St – Form Direct, Enterprise St – Dept of Transport, Production St – Production St – Bundy Hot Gas, Brickworks Crt – Autobarn, Commercial Ave – Milward Kawasaki, Commercial Street.