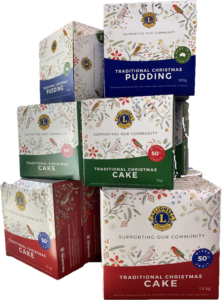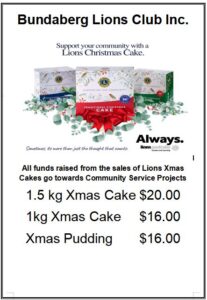 Lions Christmas Cakes or Pudding
Lions Christmas Cakes or Pudding make a great Christmas gift to your employees or clients. This is the choice of an increasing number of organizations and businesses.
Lions Christmas Cakes and Pudding are also an excellent choice for Christmas presents to friends and family or maybe yourself.
1.5kg Lions Christmas Cake $20 ea.
1kg Lions Christmas Cake or Pudding $16 ea.
Contact Bundaberg Lions Club for more information on Lions Christmas Cakes or Pudding.
.
Why a Lions Christmas Cake or Pudding? Here are 10 good reasons.
All the profits raised go back to the community in the way of Medical Research, Disaster Relief and many other Local Projects.
The cakes and puddings are of a high quality baked in Australia by a well-known brand.
Lions Christmas Cakes have been a proven popular quality product for over 40 years.
The prices are very reasonable at $16 to $20.
 The Cakes or Puddings can be enjoyed by the entire family.
They are nicely boxed with a Christmas theme so no further wrapping is required.
Order now well ahead of Christmas so there are no hassles at that busy time.
Your local Club will try and deliver to your business.
We are also flexible with orders and can-do part cartons of cakes or a mixture of cakes and puddings.
We accept bank transfer or FPOS and provide a receipt.
Bundaberg Lions Christmas Cakes or Pudding. (Not all sites have the Pudding)
2023 Outlets below
Sugarland Post Office.
Bank of Qld, Bourbong St.
Finemore Walters & Story, Woongarra St.
Burnett Bowls Club, George Street
Sugarland Plaza – selected days at Lions Club stand.
Bundy Hot Gas, Brickworks Circuit.
Dept Of Natural Resources
IWC Pharmacy – 184 Barolin Street
Southern Cross Support Services – 9 Maryborough Street.
Argyle Gardens Retirement Village – Avoca.
Chippindall's News agency – 116 Bourbong Street
Chippindall's News agency – Sugarlands Shopping Centre
Other Supporters Nutrien Ag Solutions – 96 Mt Perry Road – Staff Only Genesis Care Southern Cross Support services.
We thank all of the Business's and their Employee's for their help. All profits go to worthwhile causes. It makes us proud to have this community support.
History of Lions Cakes briefly below.
Lions Christmas Cake Program had its beginnings back prior to 1965. The project has proved successful, and sales have been astronomical since the inception of the program.
Cakes have been baked by Australia's leading food companies since 1983. All cakes are baked to the relevant identical recipe by the manufacturer, ensuring a uniform, high quality product.
Annual sales nationally are approximately $6,500,000 and the funds raised by Clubs are for Save Sight, Health, Welfare and Humanitarian projects. It is estimated that since the inception of the program as a National Project funds raised have exceeded…. $47,000,000.
This is an outstanding result and reflects community support for Lions Clubs.
Besides all of this the Cakes actually taste great and always leave you wanting more.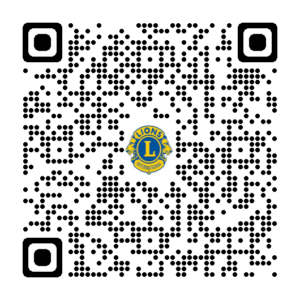 See more